Nicole's Birth Story
Warning, this is long and detailed
The pregnancy for Nicole was uneventful up until 26 weeks, except for quite frequent round ligament pains. At 26w1d I walked quite a bit at a home and garden show and was really bothered by what the doctor and nurses kept assuring me was round ligament pain. I went to bed early and felt fine the next morning. I decided to keep my plans to go to the beach and dig razor clams with my parents and daughter, Caitlyn. I took things easy and only went for the clams close to the surface. After dropping the clams off to be cleaned, we went into town for a late breakfast and to do some sightseeing. During breakfast I occasionally felt some cramping, which now I know were contractions.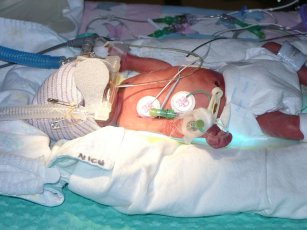 I rested on the 2.5 hour ride home and when I stood up to walk around at my parents house I thought my water might have broke. I didn't want to cause any alarm, so I got in my Jeep with Caitlyn and headed to my house which is about 10 minutes away. When I got home I went to the bathroom to check and there was some blood. I called the doctor on call, of course it is Sunday and she told me to come into labor and delivery and get checked out. My mom came over and got Caitlyn and my husband, Darrell and I headed to the hospital. I didn't get nervous until the nurse refused to check me because she thought there was too much blood and she called the doctor in to the hospital. The doctor tested and my water had not broke, so I was sent to ultrasound. The ultrasound showed the baby was OK and I was told I had a small placental abruption. The bleeding subsided and I was sent home on Tuesday.
I was put on almost complete bedrest, but allowed to get up to eat and use the bathroom. I followed orders exactly, but on Friday started to bleed again. My mom took me to the hospital and I was having contractions on the way. She was very nervous and upset and thank goodness traffic was lighter than a normal Friday afternoon. They checked me out and my doctor thought about sending me home, but decided to keep me overnight for observation.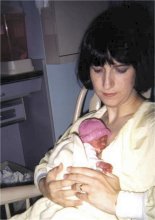 It was good they did because the next morning I really started having regular contractions. They gave me a shot of something(can't remember what) to stop the contractions, no luck, second shot, still not stopping. Time for a steroid shot and then I was put on magnesium sulfate. Soon after I was transported by ambulance to a hospital with a level 3 nursery. My wonderful nurse, Karla, rode with me. I will be forever thankful she was with me, it really eased my mind and helped make the trip more bearable. The combination of magnesium sulfate, lying down, traveling backwards was too much for me. By the time I arrived at Providence St. Vincent's I was very nauseous.
I was kept on the magnesium sulfate until Monday afternoon when my contractions subsided. Poor Darrell could hardly stand to visit me, I guess the room was extremely cold. He would have to go out every 15-30 minutes just to thaw. I was so hot, I kept asking for the air to be turned up. Magnesium sulfate has to be one of the worst drugs and I am so thankful I wasn't on it longer. Women that are on it for a long time deserve medals. I had a very wonderful nurse take care of me while I was on the mag and I cannot remember her name or what she looked like(everything was blurry), but I will always remember her kindness, she was a true angel.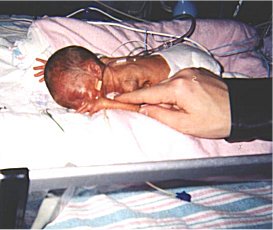 I was very uncomfortable because they could only pick Nicole's heartbeat up if I layed on my left side and had the belts cinching me in half. She was breech and pretty small. It would take them 30+ minutes sometimes to find her again after losing her off the monitor and she was supposed to be watched 24/7. Tuesday I didn't feel great and during the night a couple of times Nicole's heart rate dropped and the nurse came flying in. She whipped the O2 mask on me and the second time it happened she even called other nurses in to help. Most nurses try not to let you tell what is happening so as to not alarm you, but I can usually pick up on their concerns. I was scared.
I made it till morning and right after breakfast my water broke. I didn't have any doubts this time, the bed was soaked. I buzzed for the nurse and of course that is the day they were short handed. I was freaking out and finally a nurse came in. She called the doctor and he came and confirmed what I already knew. He said that it didn't mean I would deliver and that I could go for days still. They started antibiotics in my IV. Well my contractions started back up again, very frequent and painful. I was assigned a labor and delivery nurse and she helped me out. I could tell that she was nervous because I was passing a lot of blood and she kept calling the doctor. Finally they decided to perform a c-section and Nicole was born at 5:44 PM., 2lbs 1.6oz, 13.5 inches long. They told me afterwards it was good they delivered her when they did because my placenta was "like hamburger" and they were shocked she was doing so well, she should have been showing more stress/heartbeat problems with the shape the placenta was in. I guess she is just a fighter.
I stayed in recovery for an hour and they wheeled me through the NICU on my way to my room. Nicole was breathing room air and doing well so they let me hold her on my chest. We weren't prepared at all, so the NICU nurses took a Polaroid pick of her on my chest, I will always cherish that photo and being able to hold her so soon. Back in my room I was introduced to my good friend that would be by my side for months… The Medela breast pump. I called my mom and chatted for a bit, then fell asleep. It was so lonely in that room by myself.
---
Updates
1/29/2004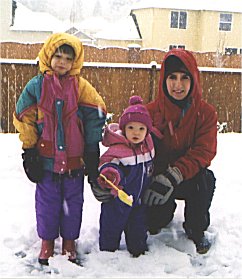 We've been doing well. It was a bit crazy over the holidays and Nicole got sick twice in December. One of the times it was RSV, but she handled it like a trooper. She has borderline asthma and is on inhaled steroids as a preventive measure during the winter months. We'll try taking her off when she turns 2. Nicole is still a bit behind in language, but she does say a few words: mama, dada, ba(bottle- which we are getting rid of), bir(bird), ba(ball), bebe(anytime she sees one of the dolls I make, she wants to pat and hold baby), up, off and mine. She is walking and running now and getting into all sorts of trouble. I caught her trying to climb onto the kitchen table the other day.
Caitlyn is enjoying kindergarten. I'm so impressed by how much she has learned already.
We don't usually get much snow in our area, but we got a welcome couple of inches this month. Then we got a silver thaw which was unpleasant.
6/15/2004
Nicole recently had her two year birthday, where does the time go? She is still on Flovent and will stay on it for at least three more months. At that point her doctor will evaluate and if she is still wheezy, then we'll maybe visit a pulmonologist. She had her two year eye check and everything looks OK there. Her speech is doing OK, she is ahead in receptive and at the bottom end of OK for expressive. At her physical therapy evaluation they recommended a few sessions of PT. She hyperextends her right leg and her left arch isn't developing yet. I know I shouldn't laugh, but it is funny to watch her run. Nothing seems to keep her from having the fun she wants to. She continues to be a delight to have around.
Caitlyn is amazing us also. She has her last day of kindergarten this week and thoroughly enjoys school. She can read simple books and can count to 100. She enjoys reading to her sister which is a big help for me.
Summer will definitely be a change for us. I will find it trickier to balance sewing time, web business time and family time. I look forward to the park visits and library programs. Since my last update, I have officially opened my web design business. Prior to having Nicole I worked for an established insurance company in their IT department. My main job duties were to maintain their websites. I couldn't put Nicole into daycare and they don't allow telecommuting, so I ended up giving notice. I was sad to leave my co-workers, but not sad to give up the commute, paying the Oregon income tax(I live in Washington) and office politics. I really enjoy my time at home, but we also need my income. You can see my website here, www.northridgewebsolutions.com.
March 2005
Wow, where does the time go. We've had a great winter, everyone has managed to stay extremely healthy. The only excitement health wise was Caitlyn blacked out at school and fell out of her chair. She had an EEG that came back normal so we are still wondering what caused it. I believe it may have been some sort of seizure episode. We obviously hope it never happens again, but will cross that bridge if we have to. Nicole is still on Flovent and we're hoping to try and take her off it this summer. She had 8 weeks of PT in the fall. She was hyperextending her leg and running stiff legged. The PT really helped. She is now chattering up a storm.
May 2006
Once again time has slipped away. Nicole is now 4 and doing great. We plan on getting Nicole into pre-school in the fall. I've been reluctant to place her in a group environment and expose her to extra germs. She tends to have asthma flares with colds and has had bronchitis twice this past winter. Otherwise she has been really healthy. She is quite the character and chatters non-stop at times(and I was worried when she wasn't talking - silly me) Her favorite magazine is Animal Baby and she is super excited every time it comes in the mail. What a great gift it has been! Soon we'll have to look at the next age level in the series.

Caitlyn is 8 and enjoying 2nd grade. Caitlyn had her second seizure on Thanksgiving day. I got to witness this one and it was scary to say the least. We had her transported via ambulance to our new hospital. They checked a number of things and sent us home late in the day. Since then she has had some more tests and they can't find any cause. Her neurologist recommended to wait and see if she has another before placing her on medicine due to the fact they were 10 months apart.
August 2016
Oh my goodness, 10 years have flown by. Nicole just finished middle school and will be attending high school next year. She gets all A's in school and already has some high school credits on her record. You would never know she was born premature. Caitlyn has not had any more seizures and graduated from high school this June.